Behavioural & Cognitive Sciences
OPINION PIECE – Vaccination reluctance in Luxembourg, France and Germany
By Pr. Dr. Conchita D'Ambrosio and Pr. Dr. Claus Vögele

An article of RTL Today on September 15th, 2021, reports that Xavier Bettel said that it is "not normal" that the government has to continue imposing restrictions on 85% (of vaccinated residents) because 15% do not want to be vaccinated. Bettel then claimed that they were depriving the vaccinated majority "of a return to normal life". "It has been said here (in the Chamber of Deputies) that we need to protect this minority," he continued. But for the Prime Minister, it is "also a question of protecting the majority". "I cannot deprive the majority of its rights because a minority simply does not want to conceive that it is in the interest of living together that we make a collective effort against the virus," he said, raising his voice.
No better words to express our opinion on vaccine reluctance in Luxembourg and elsewhere. But who are those who do not want to be vaccinated? And how does Luxembourg perform compared to France and Germany? Understanding some of the characteristics of individuals who are still hesitant will help to better design pro-vaccination campaigns that will convince (and not persuade), hopefully, those who are still reluctant.
Thanks to the generous support from our sponsors (Agence Nationale de la Recherche (ANR), Fonds National de la Recherche Luxembourg (FNR), Losch Foundation, Art2Cure, CARGOLUX and our Faculty) we have been able to collect a unique dataset, COME-HERE, since April 2020, that we have been using. We focused on some demographic and socioeconomic factors that characterized individuals with different preferences for vaccination in June 2021 – see chart below. This analysis is based on 643 participants in Luxembourg, 961 individuals in France, and 703 respondents in Germany. The question asked was the following: "Have you been vaccinated against Covid-19?" and the possible answers were "Yes"; "No but I plan to. I am waiting for my turn"; and "No, and I do not plan to".
Over 85% of participants in Luxembourg and Germany were either vaccinated or waiting for their turn to get the jab. In France these percentages are slightly lower where 79% of participants were vaccine accepting. Concerning vaccine reluctance, 21% of French respondents are not planning to take the vaccine, which is much higher than the respective figures in Luxembourg (14.5%) and Germany (13%).
Figure 1: Vaccination status in Luxembourg, France and Germany in June 2021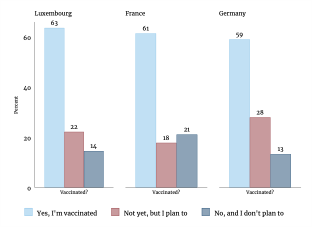 There is a clear gender difference in all three countries. Women are less likely to have already been vaccinated and are more likely to be vaccine hesitant. 25% of French women are reluctant to take the vaccine compared to 19% in Luxembourg and 16% in Germany. These gender differences in vaccine attitude are statistically significant in all three countries. Vaccine reluctance among men is very similar in Luxembourg and Germany (11%) and slightly higher in France (17%). Higher vaccine hesitancy among women is a common finding among many studies (see, for example, Robertson et al., 2021, for the UK and Edwards et al., 2021, for Australia)
Figure 2: Vaccination reluctance in Luxembourg, France and Germany in June 2021, by gender
One possible reason as to why women tend to be more reluctant is socioeconomic differences.  We checked whether women on average lived in lower monthly income households and whether they were more educated than men, since we found that reluctance declines with income (see below) and is lower among high educated individuals. In all three countries, monthly income is lower for women than men. In France and Luxembourg there is no discernible difference in education between women and men.
Figure 3: Socio-economic differences by gender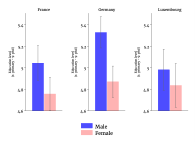 Among women, there is no statistically significant difference in vaccine reluctance by either income or education.
Figure 4: Socioeconomic difference in vaccine reluctance among women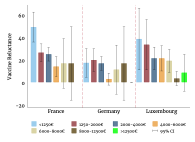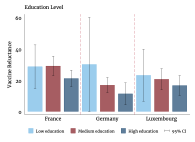 In a survey conducted in the US, that asked why hesitant individuals may be reluctant to vaccinate, women were most likely to be hesitant based on concerns about safety and efficacy.
In all three countries, there is a similar age profile for those who are vaccine reluctant. The proportion of people who do not plan to take the vaccine is highly concentrated in early adulthood and declines with age, reflecting the perception that the illness is less severe for younger individuals. The difference between the youngest and oldest age groups is always statistically significant. These age differences are particularly strong in France where almost half of the respondents in the age group 18-24 are vaccine reluctant. Compared to respondents younger than 55, the elderly (65 and over) in both France and Luxembourg are significantly less likely to resist the vaccine. These results call for a more targeted messaging of vaccine efficacy to young adults, perhaps emphasizing their role in transmitting the virus to others. 
Figure 3: Vaccine reluctance in Luxembourg, France and Germany in June 2021, by age
Education is not a big factor, although there is a clear correlation between labour force status and vaccine reluctance. In France, the unemployed are more likely to refuse the vaccine compared to the employed and the retired. In all three countries, the retired are less likely to be vaccine reluctant compared to both the employed and the unemployed. Even though students report high vaccine reluctance in both France (33%) and Luxembourg (24%), the difference between students and the other employment groups is not statistically significant.
Figure 4: Socioeconomic determinants of vaccine reluctance in Luxembourg, France and Germany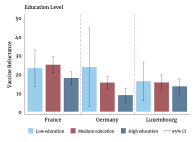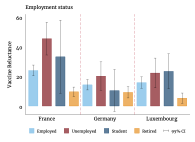 Vaccine reluctance declines with household income in all three countries. More than half of the respondents in France that reside in households with a monthly net income of 1250 Euros or less are vaccine reluctant. This is in stark contrast to respondents in households with a monthly income of 6000 Euros or more. The vaccine attitudes of the bottom earners in France are significantly different from all other groups (except the top group). Even though there is a clear negative correlation between income and vaccine reluctance in Luxembourg, the differences among the income groups are not statistically significant. In Germany, there is virtually no vaccine reluctance in respondents with a monthly household income of over 12500 Euros.
Figure 5: Vaccine reluctance in Luxembourg, France and Germany, by net monthly household income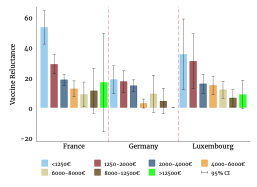 In Luxembourg and Germany, the proportion of respondents who do not plan to get vaccinated rises from the Left to the Right of the political spectrum, with the figure for self-identified right-wingers being twice that for those who say they are left-wing. Even though more self-identified right-wingers report to be vaccine reluctant, the difference is not statistically significant.
Figure 7: Political orientation and vaccine reluctance in Luxembourg, France and Germany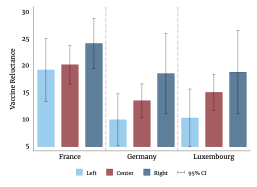 Our results suggest that socio-economic characteristics are important predictors of vaccine hesitancy: campaigns should target women, younger individuals, the unemployed and low-income families. The results concerning political orientation may reflect the higher proportion of people who believe in conspiracy theories in self-identified right-wingers.
People
related to this project